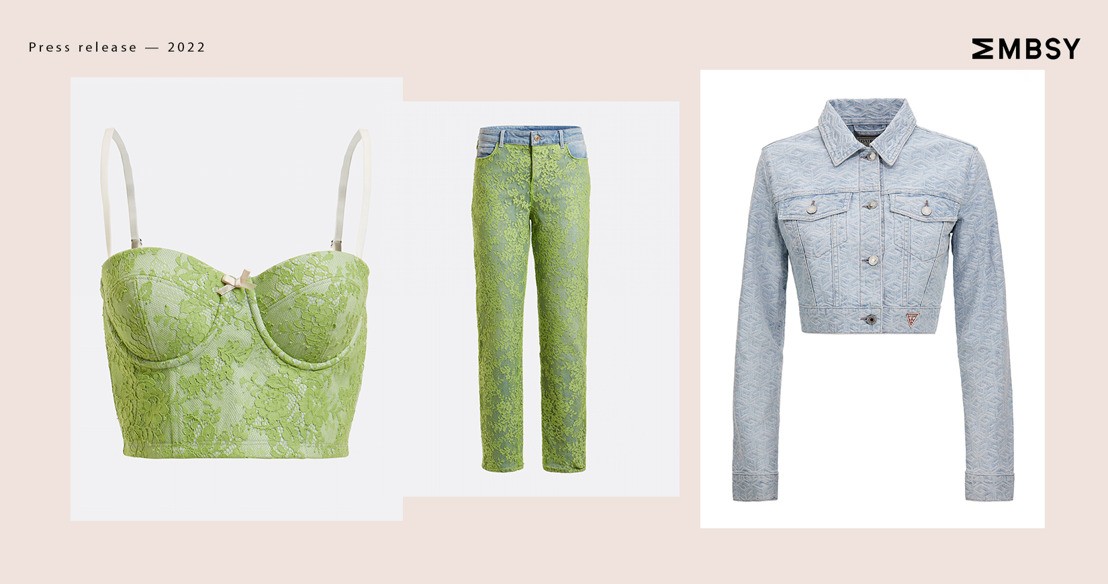 Explore the irresistible DENIM GARDEN summer capsule collection by GUESS
Founded by the Marciano brothers in 1981 as a small California jeans company, GUESS has revolutionized denim in the fashion world. Thanks to their timeless, sexy, bold and chic designs, the brothers elevated denim to its timeless, essential status. Fast forward to the Spring-Summer 2022 GUESS Denim collection and GUESS continues to be as strong as ever with fashion-forward cuts, summery washes and styles, and innovative technologies.
This season, GUESS is also excited to premiere the Denim Garden capsule collection. This exclusive array of pieces draw inspiration from a lusciously flowered garden, offering a fresh, youthful look that is full of allure. The capsule features a chic cropped denim jacket, skinny jeans and buttoned midi skirt made from signature G Cube jacquard denim in fresh new tones of color cube yellow, blue cube wash and color cube aqua. The collection also features a stunning butterfly jacket and pants, as well as green lace denim pants in two different silhouettes, a skirt and a feminine bustier top. The result is a capsule that is filled with pop accents, bright colors and overdyed and worked denim for the ultimate sultry summer look.
---
About GUESS?, Inc.
Established in 1981, GUESS began as a jeans company and has since successfully grown into a global lifestyle brand. Guess?, Inc. designs, markets, distributes and licenses a lifestyle collection of contemporary apparel, denim, handbags, watches, eyewear, footwear and other related consumer products. Guess? products are distributed through branded Guess? stores as well as better department and specialty stores around the world. As of July 31, 2021, the Company directly operated 1,046 retail stores in the Americas, Europe and Asia. The Company's partners and distributors operated 551 additional retail stores worldwide. As of July 31, 2021, the Company and its partners and distributors operated in approximately 100 countries worldwide. For more information about the Company, please visit www.guess.eu.
---
For more information:
Mallika D'Huys PR Manager, MMBSY