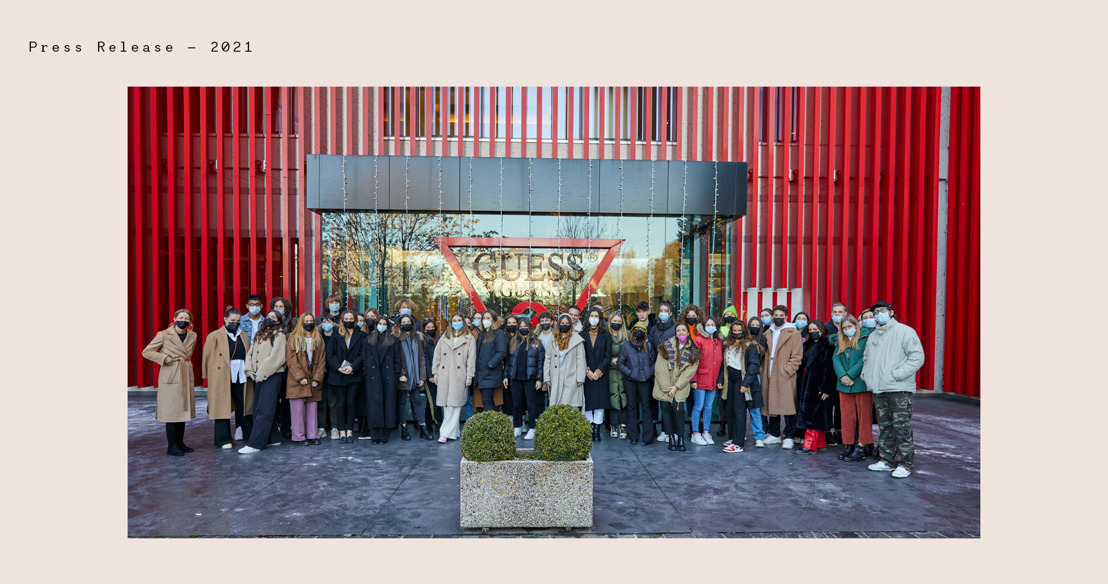 GUESS Europe launches the second version of the Gen Z Lab with students from Milan, Italy
GUESS Europe launches the second version of the Gen Z Lab with students from Milan, Italy
GUESS Europe and the Lifestyle-Tech Competence Center (LTCC) are thrilled to launch the second edition of the GUESS Z Lab, a groundbreaking concept developed to co-create with the members of Generation Z. Proceeding with the project already kicked off earlier this year, the second workshop with the students from Milan based, IED University, took place on December 14th at the European headquarters of the brand. GUESS Gen Z Lab aims to strengthen the brand's connection with younger consumers, by listening and exchanging ideas directly with them.
Generation Z, also known as iGen, is the largest generation ever, made up by around 30% of today's population. They were born between 1996 and 2010, and are the first generation of always-on, digital native content creators, literally connected 24/7.
Paul Marciano, Chief Creative Officer for GUESS?, Inc. said: "Running the Gen Z Lab has allowed the brand to better understand this complex generation, co-create with them and get direct feedback in order to create products and services that are meaningful to the members of this generation. This was also a very valuable experience for our teams across the organization."
End-to-end research journeys
The GUESS Gen Z lab was imagined as a platform to get inside the mind of young consumers, understanding what is appealing for them, and using that knowledge to create customer experiences tailored specifically to them. The Lab's journey includes different stages tailored to each university program, which comprise a set of research tools such as online surveys, design thinking workshops, focus groups, plus also live shopping and ecommerce experiences. This second edition was the first time the brand co-created with Italian members of this generation, and counted with 42 students which underwent a research process that lasted 3 months.
Jelena Tasic, Managing Director at LTCC, says: "We at Lifestyle-Tech Competence Center, a nonprofit organization based in the Ticino region, Switzerland, strive to drive innovation and practical R&D projects hand-in-hand with brands. This collaboration with one of our founding members, GUESS, is a great example of how the private and academic sectors can work together. Going forward, we are planning a big international edition of the GUESS Gen Z Lab for mid-next year, involving different universities from across Europe."
Learning from the Fashion Industry, inside the Industry
Having the possibility to work hand in hand with senior fashion managers is one of the main benefits handed to the university students that participate in the journeys of the GUESS Gen Z lab. Understanding fashion's key pain points today, and having students participating in real business cases with international brands, are genuine learning activities that cannot be replicated inside a digital or physical classroom. The fact that students can participate in real customer testing experiences allows them to understand how feedback management and customer service processes are structured and employed within corporate environments.
"The overall experience with GUESS was challenging and stimulating at the same time. We had the opportunity to enter a real working environment where, as students, our opinions and our say mattered. During the Lugano workshop, we had the chance to work together and were able to exchange ideas and confront each other on different topics, creating an inspirational environment where the company and the students converged", Matilde Dotto, Fashion Marketing student at IED Milano.
"It was exciting to see our students collaborate with such an important brand in the fashion world. This fantastic experience gave students the possibility to grow up from a personal and professional point of view and gave them the chance to learn and understand the paths of their future", Lucia Magarini, Fashion Marketing Course Leader at IED Milano.
Dorothée Marcus PR manager, MMBSY