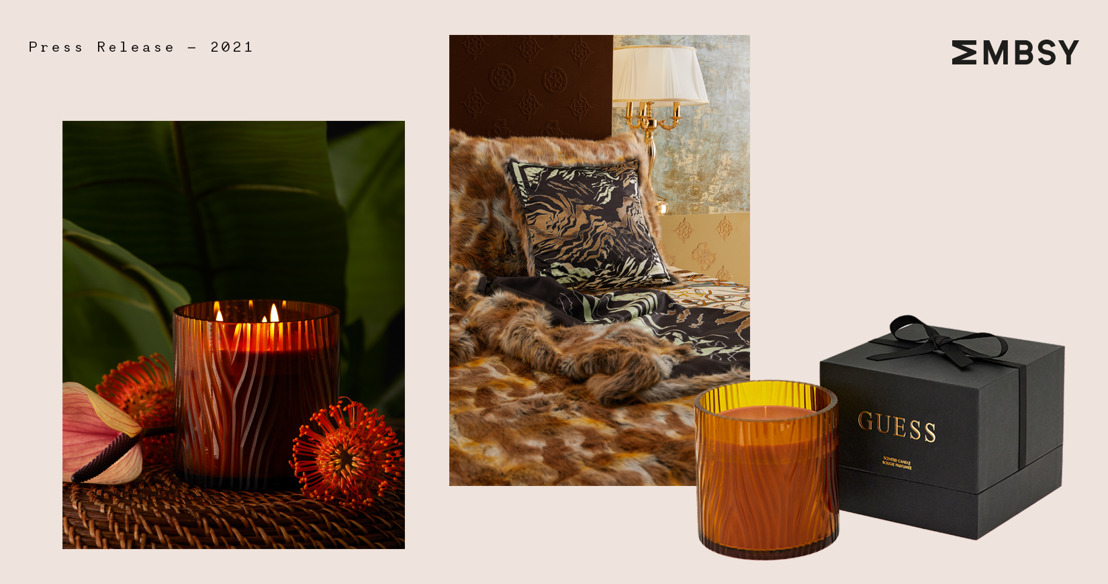 GUESS introduces the new GUESS HOME DÉCOR collection
American lifestyle brand GUESS launches a new and exclusive GUESS HOME décor collection, rounding out the brand's 360-degree approach to offering proposals that add a sprinkle of distinctive GUESS glamour, not only in the wardrobe department but also in our homes.
This new range of cushions and blankets is made entirely from environmentally friendly materials, underling the brand's constant commitment to circular fashion and safeguarding the environment. In fact, all the furs used for the cushions and blankets are produced using recycled and bio-synthetic materials and eco-friendly DyeCoo technology, which requires no water, significantly lowering the carbon and ecological footprint.
We're absolutely thrilled that we can now offer a range of home décor products to our customers. The launch of this new collection is just the initial stage in our plans to create a more extensive range of sustainable home accessories that fully embody the spirit of the GUESS brand and lifestyle.
​Paul Marciano, GUESS chief creative officer
Inspired by the pastel colors of ancient Greece and Rome, ceramics, Westwood, Art-Deco and the beauty of animals, the new collection draws on vintage motifs, logos and cues from the brand's historic archive to create a luxurious series of blankets and cushions in a myriad of exclusive prints and hues.
Showcasing a tactile combination of luxe materials, this eclectic range of double-sided cushions and blankets have been finished in a playful combination of long and short eco-fur and silk-effect print fabric. From exotic animalier prints and eye-catching logos, to more subtle neutrals and retro-style prints, this versatile collection has been specifically designed to appeal to every customer's taste, be it bold and audacious, classic or understated.
Exclusive creations that draw on a multitude of iconic signature elements from various collections, including GUESS Jeans, GUESS Accessories and Marciano, making them particularly alluring for customers in search of statement pieces with iconic GUESS cues and branding. Then there's the added indulgence of the extravagant feel of sustainable faux fur, in a choice of fluffy fox, super-soft leopard, rabbit and beaver, for a lavish touch of coziness and chic. The cushions are available in two different sizes, the square cushion (50 x 50 cm) and the rectangular version. The blankets are available in one size only (180 x 150 cm). Retail prices ranging from € 55.00 to € 160.00
December 2021 also heralds the introduction of a luxurious range of scented candles, embellished with signature GUESS motifs, like the iconic 'G' or Peony logo; the exclusive Zebra candle in a meticulously hand-carved glass, or the lavish G Logo candle in a decalcomania-finished glass vessel printed with gold. Exquisite works of art that will continue to adorn the home long after the candle flickers out.
A collection that lifts the ambience with a rich tapestry of scents, including the uplifting notes of mint and cilantro inspired by Moroccan Souks, exquisite florals, like Double Delight and Piaget Rose, and the warm aroma of Tahitian Vanilla or comforting Caramel, all ​ ​ exclusively curated for GUESS. Crafted in the highest quality wax, these long-lasting candles have a burning time of 35 for the smaller versions and up to 100 hours for the larger designs.
Presented in an elegant gift box, the new candle collection offers a versatile color pallete, from classic neutrals and pastels to opulent gold and vibrant primaries, making them the perfect home complement or gift. Retail prices ranging from € 18.00 to € 145.
Find all images from the scented candles collection here.
GUESS HOME collection was launched in September 2021 and is available exclusively at Guess.eu, selected stores, and through high-end fashion wholesaler Zalando.
About GUESS?, Inc.
Established in 1981, GUESS began as a jeans company and has since successfully grown into a global lifestyle brand. Guess?, Inc. designs, markets, distributes and licenses a lifestyle collection of contemporary apparel, denim, handbags, watches, eyewear, footwear and other related consumer products. Guess? products are distributed through branded Guess? stores as well as better department and specialty stores around the world. As of January 30, 2021, the Company directly operated 1,046 retail stores in the Americas, Europe and Asia. The Company's partners and distributors operated 524 additional retail stores worldwide. As of January 30, 2021, the Company and its partners and distributors operated in approximately 100 countries worldwide. For more information about the Company, please visit www.guess.eu.