GUESS UNDERWEAR & ACTIVEWEAR FW19 COLLECTION
The GUESS Underwear & Activewear FW19 collection flaunts a rebellious yet romantic attitude with a non-conformist appeal, in a stunning collection of lingerie that complements a rich offering of nightwear. Activewear also steals the scene with flattering, modern designs and contemporary cuts and fabrics.
Groupies
This alluring theme fuses groupie femininity and rock femme romance, resulting in a playful, vintage-inspired underwear collection. Drawing inspiration from '90s grunge icon Courtney Love, Groupies plays with hearts, retro flower and leopard print motifs, matched with sensual lace and embroidery, in a triumph of soft and vivid pinks and reds, coordinated with black, grey and cream tones.
Loungewear in knit, satin and fleece beckons with irresistible comfort, while activewear takes a Namaste approach with seamless, modern cuts enlivened by powerful pink and purple colour tones, animalier motifs and bold GUESS logo prints. Modern fabrics ensure comfort and performance with a feminine edge for the dynamic GUESS woman.
Studio 54
The iconic New York City nightclub vibe makes a comeback in this hip, retro-style collection, brimming with midnight romance and disco glam. Lace, mesh and printed microfiber create striking underwear silhouettes with contrasting accents, strass and shapewear accents.
A palette of lavender, greens, greys and mauves with mottled finishes add the perfect finishing touch to effortlessly cool loungewear with sparkling details and modern-meets-vintage cuts. '70's spirit echoes in the Studio 54 activewear collection, with sporty yet seductive cuts complete with statement print logos, technical fabrics and iridescent finishes.
Brixton Market
Take a trip to London's favourite off-beat market with this rebel romance-inspired look. Punk subculture pervades this sexy collection with a unique luxury streak, emblazoned with red leopard prints, rose pink and cherry hues and flashes of grey and black colour accents. Waist-flattering cuts are accented with lace and georgette fabric, embroidered mesh and metallic detailing.
A romantic selection of loungewear features a wild combination of satin, fleece and cotton rib, all with an underground twist. It's time for the playoff with Brixton Market's activewear, featuring feminine yet fierce patch detailing and pinstripes in a bold red, black and grey colour palette.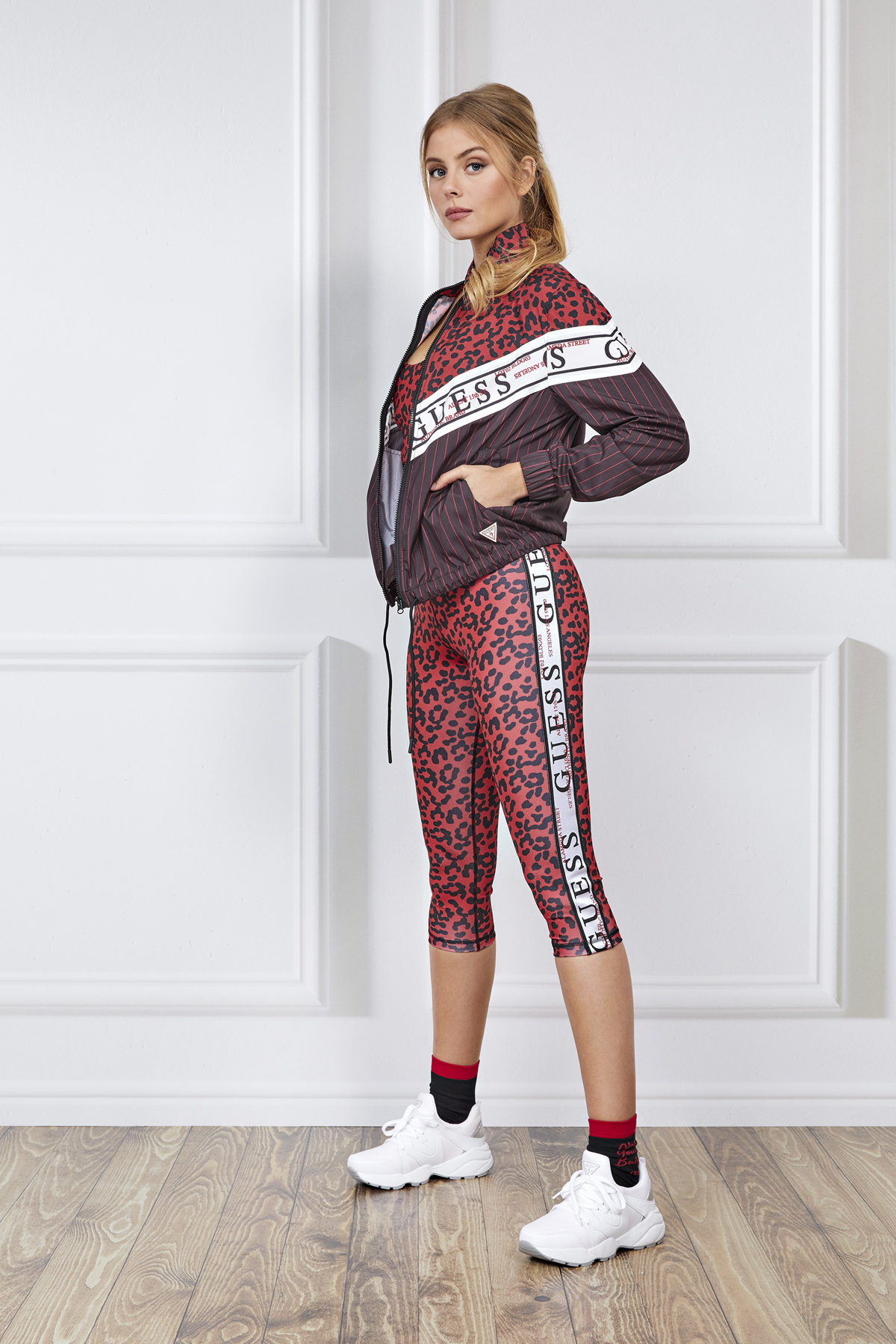 Dorothée Marcus PR manager, MMBSY